Exhibition
Cuba's Rich Architectural Heritage
"This exhibition is not only about thinking about what we have lost but what we should preserve. It's… about the spirit that… built those buildings."
— Mario Coyula, Urban Planner and Critic.
The Havana Revisited exhibition highlights how successfully Havana's important buildings are being restored to their previous appearance. Especially noteworthy are the Spanish colonial buildings of Habana Vieja and the magnificent Capitol. The exhibition, packed in metal crates with wheels, is ready to ship immediately.
The exhibition includes thirty framed works, two framed maps of Havana (one recent and one dated1853), a selection of original antique picture postcards and a 20-minute video.
The exhibition invites programming related to current events in Cuba, as well as architecture, urban planning, Latin American studies, and colonial history. Cathryn Griffith is available to provide lectures and tours of the exhibition. She can also lead trips to explore Cuba with knowledgeable English-speaking Cuban guides.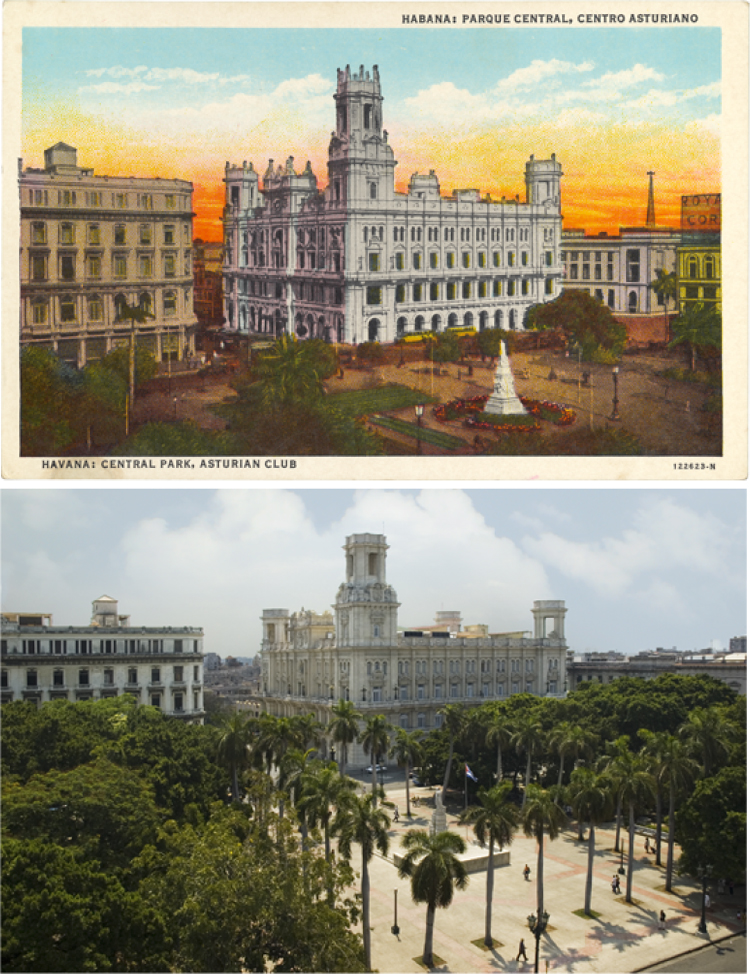 "It's highly unlikely that Griffith and her cohorts compiled this collection to bemoan what's been lost; I'm thinking they're far more interested in ensuring that what's left remains standing for generations to come. " — John Hood in Miami SunPost
Havana Revisited: An Architectural Heritage, was published by W. W. Norton. This book, with a foreword by the late Eusebio Leal Spengler, Historian of the City of Havana, beautifully documents the history, preservation, and present uses of Havana's most important buildings and urban spaces.
This lavishly illustrated book includes 350 illustrations and commentary by renowned architects, historians, scholars, preservationists, and urban planners in Cuba and the United States.
Throughout the book's 240 pages, illustrations juxtapose historical colored postcard images of Havana with recent photographs of the same views.
The text in each chapter raises issues of how the most important city in Spanish colonial America developed and changed over the past five centuries, as well as the extent to which restoration and preservation serve this UNESCO World Heritage Site.
The images and text together present a range of different and compelling perspectives and provoke exploration of the ways we look at all cities.